WDJD-4 D.C. Resistivity & IP Meter
WDJD-4 is a Multi-Function D.C Resistivity /IP meter, specific prospecting equipment for groundwater & mineral resources, and a primary tool for Geotechnical applications. Its advanced features & parameters support multi-functions such as resistivity survey, multi-electrode imaging, and borehole logging, respectively. It is the most economical and practical field equipment used across the globe due to the high performance, reliability, accuracy, portability, ruggedness, and simplicity of in-field operation. More details are listed below
Geophysical instruments are usually complex and expensive. Resistivity IP meter can easily be constructed from simple components available in a store that sells hardware or radio parts. The cost of these parts will not be very expensive. While the measurements with this instrument will be slow, they will be accurate.

The meter measures the electrical resistivity of the soil; this quantifies the difficulty that an electrical current has in flowing through the soil.High resistivity materials include stone, gravel, sand, and brick. Low resistivity materials include silt and clay. Soil moisture and salinity also decrease the resistivity of the soil. Measurement of resistivity will allow a test of what soil is underground, even when that cannot be determined by looking at the surface.
Function:
1-D VES & IP Sounding
1-D Resistivity& IP Profiling
SP Survey
Configuration:
1-D VES Sounding
1-D IP Sounding
Application:
Hydro-geology ;for shallow and deep aquifer mapping or GW Exploration ,Water Recharge Zone Identification and Underground water inspection
Aquifer mapping in hard rock , sedimentary and coastal terrains
Saline Intrusion Study
Engineering geology for foundation study /pre-concrete structure identification
Engineering geology inspecting as dam base exploration and flood
Metal source exploration
Non-metal source exploration
City geophysical exploration
Railway and bridge
Software Analysis:
VELANKANNI, VES CURVE
VELANKANNI, GEO ELECTRICAL PARAMETERS
KILVELUR TALUK- KEEZHAIYUR UNION, PROFILE ALONG VELANKANNI TO VETTAIKARANIRUPPU
KILVELUR TALUK- KEEZHAIYUR UNION, PROFILE, RES SECTION
Features:
Transmitting unit and receiving unit are of all-in-one design, portable and lightweight.
CMOS large-scale integrated circuit, special stand-by mode, compact size, low power consumption yet multi-function; system automatically cuts off power supply if there is no operation on it in 10 minutes.
High anti-interference performance and measuring precision, integrated with multistage wave filtration and signal enhancement technologies.
Automatically achieving compensation of self-potential, drift and electrode polarization.
Receiving unit supports transient over-voltage protection, transmitting unit supports over-voltage protection, over-current protection and AB open-circuit protection.
Measured curve can be plotted on the display directly and clearly.
Large display screen, English edition keypad and menu, flexible for operation.
Setting working period freely, 10 kinds of common array configurations are available; electrode distance is inputted and array factor could be calculated automatically.
Electrode distance table: memorizing 100 different groups of distances among the electrodes, avoiding repetitive input; input number can call the electrode distances to function or to reset.
Earth resistance inspection: Earth condition of the electrodes can be inspected at any time.
Mass data storage: able to memorize maximum 2200 readings of survey points.
All parameter and data are under power-failure protection; and thus data will not loss when system shutdown or changing battery.
Diagnostic program finds fault or failure and damaged parts quickly and accurately.
Sealed constitution: feature waterproof and dustproof design, long lifetime..
Specifications:
Receiving
Voltage channel
± 6V, ±1 % ± 1LSB
Input impedance
>50MΩ
Apparent polarizability precision
±1% ± 1LSB
SP compensation range
±1V
Current channel
6A, 24 bit A/D
Suppression
suppression is over 80dB for 50Hz industrial frequency (common mode interference or differential mode interference)
Transmitting
Maximum transmitting power
6600W
Maximum voltage range
± 1100V
Maximum current range
6A
Voltage channel
±24A, 24 bit A/D
Input resistance
≥50MΩ
Others
Working temperature
-10℃~+50℃, 95 %RH
Storage temperature
-20℃~+60℃
Instrument power
internal 12v rechargeable lithum battery or external 12v car battery, for 30 hours continously work
Overall current
≤ 55mA
Weight
≤ 4.4Kg
Dimension (L×W×H)
270mm * 246mm * 175mm
Accessories:
External Power Source
Stainless Steel Electrode
Standard Test Resistance Box
Twisted Pair Wire
Winch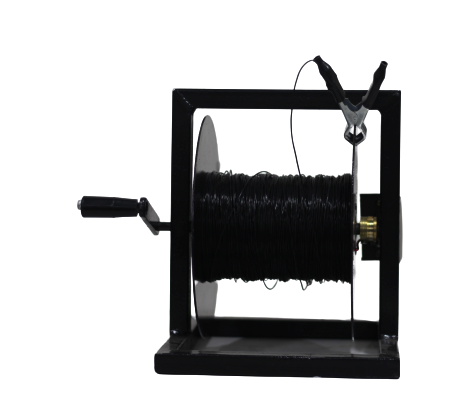 Solid Non-Polarized Electrode