WGMD-9 2D/3D Resistivity/IP Imaging System
WDA-1 /1B excellent Digital DC Resistivity/IP Meter is a unique state–of–art equipment for all kinds of resistivity surveys, imparted with the latest technology, conducts resistivity survey wireless with the help of WDA-1D & 2D software fixed in your Pocket PC or Tablet that is operated with Bluetooth within 10 m radius.

WDA-1/1B Series is a lightweight, compact, portable, high performance, and furnishes all your survey needs in a single package. WDA Series is available in two variants, viz WDA-1 and WDA-1B, respectively.WDA-1 performs a survey with an external power source, whereas WDA-1B is designed to survey with an inbuilt power source and an external power source. Its primary performance and functions surpass analog instruments in the market.
Surface electrical resistivity survey is based on the principle of the distribution of electrical voltage in the surface around a current-carrying electrode based on the electrical resistivities and distribution of the surrounding soils and rocks. The purpose of electrical resistivity imaging surveys is to examine the resistivity distribution of the sounding soil volume. Artificially generated electrical currents are given to the ground, and the resulting potential differences are measured.

The electrical resistivity survey of the ground at various points over an area or along a route, based on measurements of the current passing between electrodes embedded in the environment at successive pairs of points and used to locate buried structural features; a similar survey of the internal structure.
2D surveys are using a single line of electrodes and think that the geology is being surveyed continuously infinitely without change perpendicular to your line of electrodes. 3D Surveys - 3D Resistivity makes no assumptions and instead measures in all directions using a grid of electrodes.
Function:
1-D VES SP IP Sounding
2-D Resistivity & IP Imaging (Dual Mode)
3-D Resistivity Imaging only (No IP mode /Res mode Only)
Configuration:
2-D Resistivity Imaging
2-D Resistivity & IP Imaging
3-D Resistivity Imaging
Application:
Hydro-geology for shallow and deep aquifer mapping or GW Exploration ,Water Recharge Zone Identification and Underground water inspection.
Engineering geology for foundation study /pre-concrete structure identification, bedrock study and strata classification.
Soil piping or Tunnel erosion study, karst and void investigation
Land subsidence and Landslide geometry mapping Environment site assessment
Saline Intrusion study for delineation of fresh water and saline zone
Dam seepage study
Energy resource
City geophysical exploration
Railway and bridge prospecting
Metal and non-metal mineral resources prospecting
City geophysical exploration
Geothermal survey
Software Analysis:
2-D modeling for saline intrusion study
3-D modeling to investigate water content in Mine Floor
3-D slices vertically & transversely
Features:
Portability and flexibility: the transmitting unit and the receiving unit are designed in one device, small and lightweight. The 200V internal battery of WDA-1B mainframe can conduct multi-electrode imaging in wide variety of environments.
Unique and open measuring process control. User-defined power-on time and power-off time controls measuring process. The main frame can also monitor variation of electrode potential automatically. If the parameter exceeds the user-defined over-variation limit, it stops measuring, and wait to measure again until it becomes stable. Thanks to this function, WDA-1/WDA-1B system can ensure accurate measured result even in harsh environment.
WDA-1/WDA-1B is designed with two cable sockets which enable cross-hole electrode array configuration works without switching control unit, and thus makes the measuring process much simpler and easier.
Multiple functions: voltage and current range and small signal accuracy are allowed to increase dramatically, which makes it suitable to work with rock sampling tester, high-power IP receiver, general electrical method instrument, IP instrument, water finder, 2D and 3D multi-electrode electrical method instrument, etc.
Measuring various parameters, wide application: it is able to acquire data of voltage (VP), current (IP), apparent resistivity (R0), Self-Potential (SP), apparent polarizability (M~M7), metal factor (G1~G7), half decay time (TH), deviation (r), induce polarization ratio (J), etc.
High power supply, wide current range, high accuracy: maximum power reaches 9000W (1500V×6A), voltage input is 64Vp-p, small signal measurement precision is high (voltage is less than 0.1mV and current is less than 0.1mA with ±1% measurement precision), both of which make WDA-1/WDA-1B main frame an ideal device for regions of high resistivity and to achieve better measured results.
On its panel there is an "B(∞)" port for pole-pole and dipole-pole electrode array. As to dipole-pole array configuration, ResA, ResB, and Res can be measured automatically with high efficiency and fewer errors.
16 kinds of electrode arrays of multi-electrode system: In addition to the 10 electrode arrays of general electrical resistivity survey system, there are 16 electrode arrays for multi-electrode imaging, namely, Wenner Alpha array (WENNER α), Wenner Beta array (WENNER β), Wenner Gamma array (WENNER γ), Three-pole direct array (δA ARRAY), Three-pole reverse array (δB ARRAY), Wenner Alpha 2 array (SCHLMBG), Self-Potential M array (SP-M), Self-Potential MN array (SP-MN), Charging M (CHG-M), Charging MN (CHG-MN), Two-pole Roll along array (2P AM), Three-pole Roll along array (3P A-MN and 3P AB-M), Dipole-dipole Roll along array (DIPOLE), MN-B, Cross-Hole Dipole/Equatorial Dipole-dipole array (CR-DIPOLE).
Extendable system: data sampling and storing are controlled by pocket PC. Data management is easy. Software is flexible to be upgraded and extended (extending data storage capacity and collection software functions, also extend to special multi-electrode electrical instrument).
Excellent anti-interface performance: integrated with multistage filtration and signal enhancement technologies and suppresser against common mode interference and differential mode interference. Measurement precision is high.
Automatically achieving SP, drift and electrode compensation (maximum compensation reaches ±10V).
Receiving unit supports transient over-voltage protection for input voltage; transmitting unit supports over-voltage protection, over-current protection and AB open-circuit protection as well as DC high voltage reverse connection protection.
Earth resistance check: earth resistance of AB Current electrodes and MN Potential electrode can be inspected at any time.
Diagnosis program can find the fault or failure quickly and accurately.
Sealed constitution features waterproof and dust-proof design, long lifetime.
Flexible option of control: control unit may also be notebook PC to remotely manipulate measurement.
Specifications:
WDA-1/WDA-1B Mainframe (Standard)
Maximum transmitting power
7200W
Maximum supply voltage
1200V
Maximum supply current
6A
Transmitting power pulse width
1~60s, duty cycle is 1:1
Voltage
±32V (24 bit A/D). If Vp≥5mV, accuracy is ±0.2% ±1LSB. If 0.1mV≤Vp<5mV, accuracy is ±1% ±1LSB.
Input impedance
>50MΩ
Apparent polarizability accuracy
±1%±1LSB
SP compensation range
±10V
Current
6A (24bit A/D). If Ip≥5mA, accuracy is ±0.2% ±1LSB. If 0.1mA≤Ip<5mA, accuracy is ±1% ±1LSB.
Suppression
for 50Hz industrial frequency interference (common mode and differential mode interference), suppression is more than 80dB
Power supply
internal 7.4V 4Ah rechargeable battery continuously lasts for 20 hours (or 12V external power supply).
Ports support (transmitting unit)
A, B, M and N connecting ports, DC high voltage input ports and external battery terminals, 2 cable ports, RS-232, Bluetooth.
Working temperature
-10℃~+50℃, 95%RH
Storage temperature
-20℃~+60℃
Weight
≤ 4kg (WDA-1)
≤ 6kg (WDA-1B)
Dimension
270mm * 246mm * 123mm (WDA-1)
340mm * 295mm * 152mm (WDA-1B)
Intelligent Cable
Cable
polyurethane coated, outer diameter Φ8mm
Quantity
up to order
Connector (take-out) number<
10/sting (ten electrode per string)
Connector (take-out) spacing
5m or 10m (or up to order)
Connector size
Φ30mmx100mm (connector only),
Φ39mmx170mm (including rubber head)
Maximum voltage
1000V
Maximum current
4A
Cable insulation
cable between A, B connecting ports and cable between A, B connecting ports and the low voltage connecting port, insulation is more than 1000MΩ/1000V; cable between low voltage connecting ports, insulation is more than 500MΩ/500V
Working temperature
-20°C~+70°C
Stainless Steel Electrode for 2D/3D Resistivity Imaging (Optional)
Stainless steel electrode
Φ10mm x 280mm, with stainless spring
Quantity
up to order
Accessories:
Power Source (Rechargeable output upto 200v with 5Ah)
2D Resistivity Imaging cable (10 take out @10m spacing single mode)
2D Resistivity IP cable (10 takeout @10m spacing dual mode)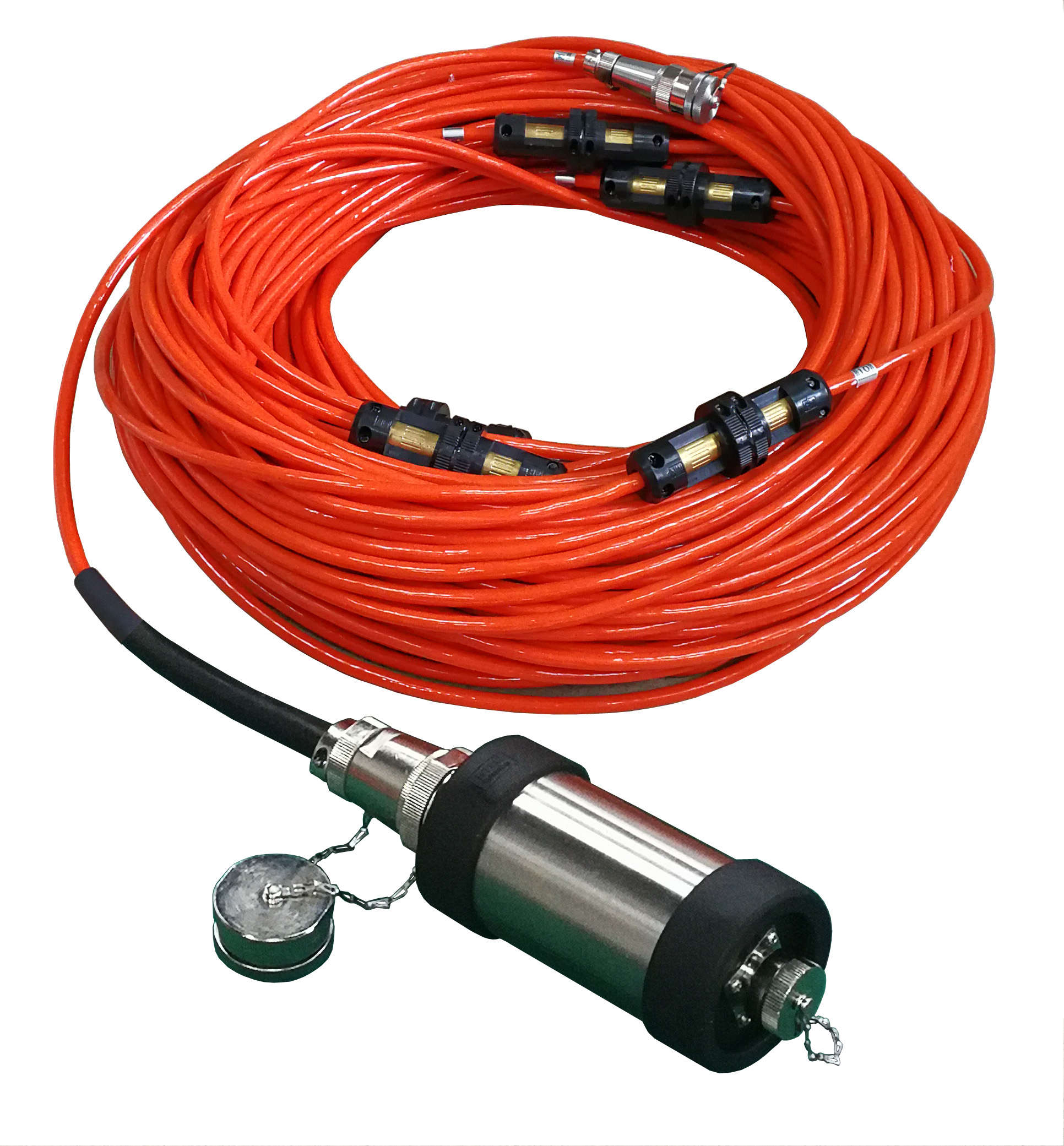 Solid Non-Polarized Electrode (IP Sounding)
Electrode with clips